Owner / Artist

Dawn Hatchett

(509) 993-5832

Jason Hatchett

(509) 939-5683

You can take a digital photo of the worst parts of your vehicle and email them to me at: 
DawnHatchett@yahoo.com
and I will let you know if it's something I can fix and give you a estimate.

Licensed & Insured

so your safe with us.

Proverbs 16:3 

Commit to the LORD whatever you do, and your plans will succeed. 

The only way to get a 100% prefect paint repair is to have it completely repainted and that can be very expensive, anywhere from $800 to thousands of dollars.

Now There Is An Alternative:

For a lot less money we can touch up the paint chips and remove many of the minor scratches. We can usually make a 70% to 95% improvement in your vehicles appearance and our prices are generally between $85 and $200 per vehicle. 

Give us a call and we will tell you what we can and can't do for your vehicle and let you know what to expect.

Our computerized color match is 99.9% accurate.

Our new technology actually fills in a lot of the chip which make them virtually invisible.

We can increase the resale value of your vehicle by $500 or more.

These photo's are completely un-retouched.

Click Photo To Enlarge

Save Time and Money 

No need to take your car to an expensive bodyshop and leave it for a week or more. We can fix your chips & scratches in 1 to 2 hours at a fraction of what a bodyshop charges. 

Dealer Recommended 

We have been servicing many  new & used car dealerships for years. We would be more than happy to give you referrals of the accounts that we service regularly. 

Satisfaction Guaranteed 

Quality is our number one priority. We don't only want your business but your referrals as well. So we can assure you that the job is not done until you are fully satisfied. 

Thank You for taking the time to read our website & 

we look forward to serving you.

Owner / Artist

Dawn Hatchett

(509) 993-5832

Jason Hatchett

(509) 939-5683

These are the dealers we service, they are all outstanding. We recommend buying your next vehicle from one of them.


Automotive Paint Touch Up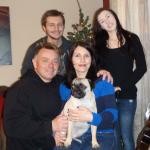 Automotive Paint Touch Up

Consumer Auto Liquidators

Taylor & Son Chevrolet 

Rokstad Ford

Pierce Auto Center

Coeur D' Alene Honda

New Deal Used Cars

Jennifer's Auto Sales

Livestream Auto Sales

Northwest Motor Sport

Truckland

Northtown Auto Liquidators

Click It Auto & RV

VIP Traders